Come and Discover the Famous Caddy Lake Rock Tunnels
This beautiful canoe route begins right from our store located on the shore of Caddy Lake. From here it is only a one and a half mile paddle by canoe/kayak or cruise in your boat to the first rock tunnel, which leads into South Cross Lake. The shores of these lakes are lined with beautiful mature trees and provide many opportunities to observe the diverse wildlife of Manitoba coming down to the shore for a drink. It is not uncommon to see deer, fox or eagles during your trip. For those who are paddling this would make a perfect afternoon trip to go out, see the first tunnel, pull up on shore at one of the campsites to have some lunch and head back. For those who would like to spend the day, one could continue on to the second rock tunnel, which leads into North Cross Lake, approximately 3 miles from the first tunnel. These man made tunnels were blasted through the solid granite rock when the railways were put in to allow the natural flow of water for the Whiteshell river system. These lakes have beautiful private campsites that are on a first come first serve basis. Each site has a picnic table and fire pit which are perfect just to stop for lunch or camp the weekend. North Cross Lake leads to a portage into Sailing Lake, which is just a short lift over. From our shore to this point is approximately 7 miles. This is where one would turn around for the day. The more adventurous could continue on the Caddy Lake canoe route which is a 105 mile round trip. For more information or to make reservations please call our store @ 1-204-349-2782.
---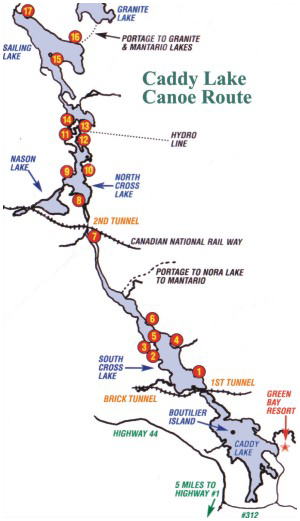 ---
Back Country Camping
Fires are allowed in the park provided fire pits. (Please be sure that the area is not under a fire ban before you light a fire).
Open fires are prohibited.
Do not cut down live vegetation for any reason. Campers must bring their own firewood. We do sell wood by the bundle here at the GBR Store.
Make sure to take ALL garbage back with you.
Campsites are Un reservable and are on a " first come first serve" basis.
Please take all precautions not to attract wildlife to your campsite.
Please treat ALL rental equipment as if it were your own.
Renters are responsible to return all equipment clean and in the condition it was given to you.
Respect fishing regulations. Manitoba Fishing licenses and angler guides are available online.