South Shore, Caddy Lake
Whiteshell Provincial Park, Manitoba
Email: info@caddylake.ca
Phone: 204-349-2782
COVID-19 Procedures:
We are taking every precaution to keep our customers and staff safe.
We are renting canoes/kayaks, but only 1 rental allowed in launch area at a time. If you are a group with more than 1 piece of equipment rental we are navigating staggered departures. This may change depending on public health guidelines.
We are requesting you park and unload vehicles in the parking lot across from the store and walk down to launch area approx. 100 yards away. We do have a utility wagon to help you move supplies down to launch area.
We are sanitizing canoes,  paddles, life jackets, safety kits and whistles. We recommend bringing your own whistle and life jackets if possible.
Hours of Operation:
We are open weekends May & June. Fridays 5-9, Saturday 9-7, Sundays 9-3
We are open 7 days a week in July & August until the Monday of September long weekend. Monday-Thursday 9-6, Friday 9-9, Saturday 9-8, Sunday 9-6.
Rental hours are different than store hours, we only run rentals between the hours of 9am and 5pm.
Green Bay resort is on the east shore of Caddy Lake in Manitoba's Whiteshell Provincial Park. Enter the park from the Trans Canada Hwy. at West Hawk Lake. After entering the park you will soon come to a "T" intersection. Turn left onto Hwy. 44. Continue to Prov. Road 312 where you will turn right. This is the same road that leads to the Fish Hatchery and to Ingolf, Ontario. Watch for the Green Bay Resort sign on your left at Block 8, Caddy Lake.
---
Contact Form:
*required field
---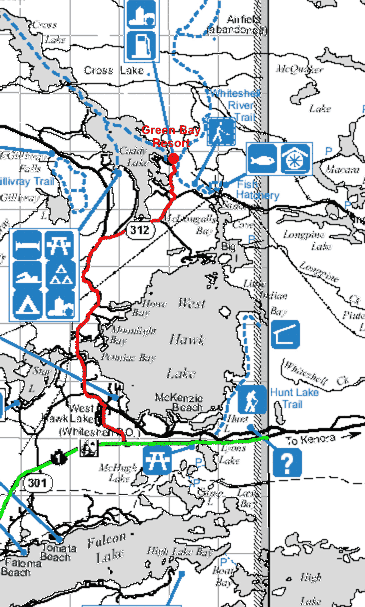 ---